The new Managing Director of Prudential Bank, Bernard Appiah Gyebi, has pledged his support to the Ghana Broadcasting Corporation as the bank forges cooperation with the State Broadcaster.
He said the GBC continues to play a critical role in the media space, and its prospects have significantly grown over the years. Mr. Gyebi said this when he led a team from Prudential Bank to pay a courtesy call on the management of the Ghana Broadcasting Corporation at Broadcasting House in Accra.
He said, "One of the ways we can work with you is to help enhance your brand."
Indeed, I thought I knew GBC well, but as I sat here and I looked at the brands, I realized that I knew just a few of the brands. We believe that as a bank the first call of service we can render is to our neighbours, if our neighbours attest to our good service, then they can attest to the rest of the world. So we have made it our mission to ensure and forge closer relationships with all our neighbours."
The Director-General of GBC, Professor Amin Alhassan, welcomed a GBC – Prudential Bank partnership. He also touched on the TV license and other developments within the State Broadcasting circles.
"We can assure you that GBC and Prudential Bank can do things together…." GBC is available for you, because of the fact that we are neighbours, we can give you a discount that we can never give to any other just because of our relationship. So as a sign of recognition of togetherness, GBC will be open to doing business with you and open fantastic discounts".
"We have launched the exercise to honour their civic duty to pay their TV License and which is what the law says. We don't pay TV Licence because you watch Ghana Television, no you pay TV Licence to enable the Public Service Broadcaster to provide the same content you enjoy in the city to all Ghanaian residents and in every corner of the country. Together, we build a family of values called Ghanaian. Ghana was born through the airwaves of GBC and Ghana has to be sustained through the airwaves of GBC and no private media can do that," the DG posited.
The Marketing Director for GBC, George Lomotey, said the Corporation has a special package for companies that will do business with it this month of July as the corporation turns 88 in 2023.
"We think this month of July, we are going to allow everybody who comes to do business with us to enjoy something more. So any business you do with us we are going to give you 88 percent more value. That promo has started running, and I want to say that your visit here has taken some of our sales because we have also started visiting some clients who do business with us and we intend to come to you being our neighbors, so although you have been here, this month expect to see us coming to you and to formally let you know what we have on the table for you."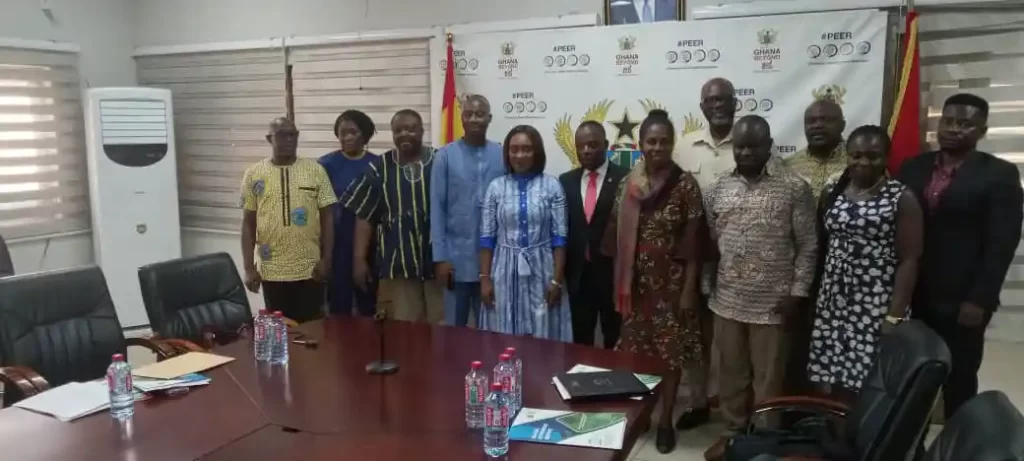 By Jennifer Frimpong Wiredu